August 5, 2019
A King Rises | A Royal Protector Academy Novella Release Date!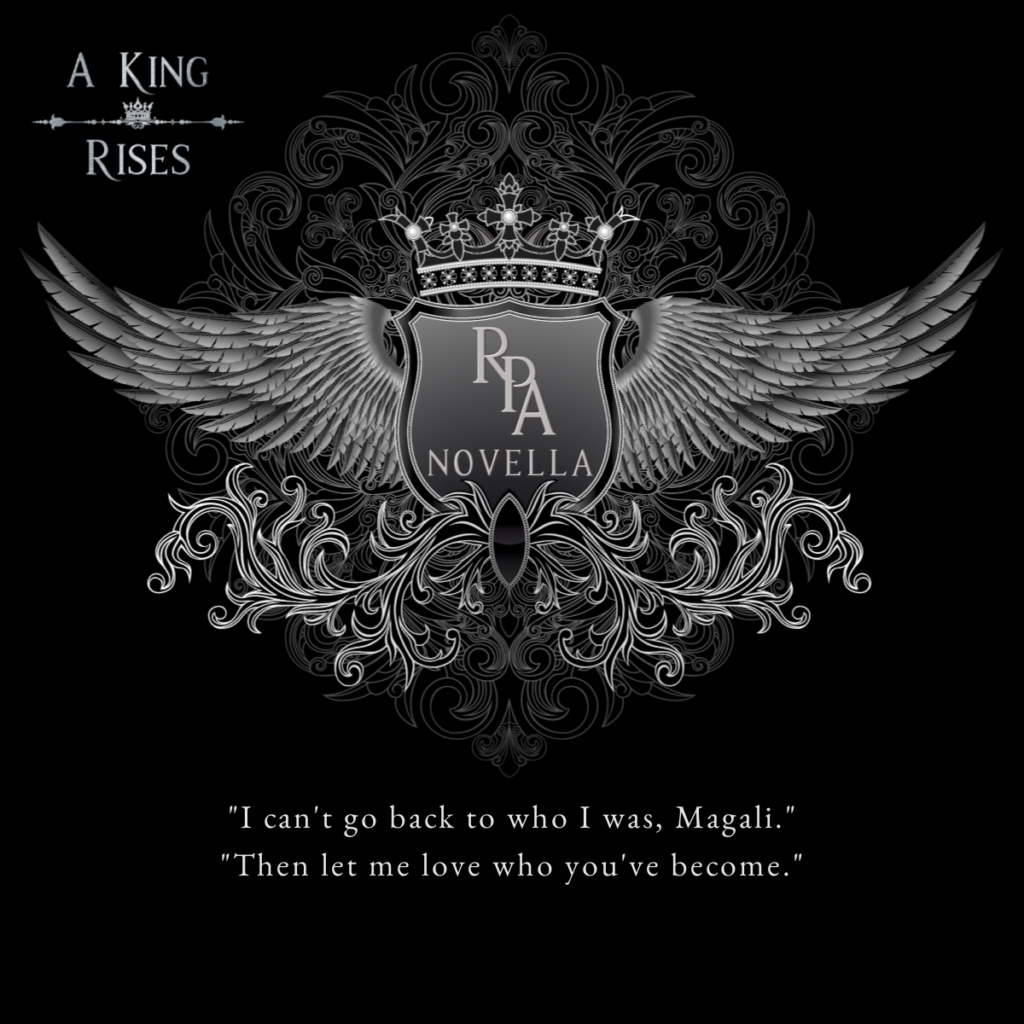 A KING RISES | A ROYAL PROTECTOR ACADEMY NOVELLA
I am happy to announce that A King Rises, Zander and Magali's story is releasing on August 20th, 2019. Purchase links will be live closer to publication date. A King Rises is a novella within The Royal Protector Academy series. It's meant to be read after that series as a companion novella.
Follow me here for the most up-to-date release information!
What Readers
Are Saying
"I didn't think you could beat my love for Revelation and then you gave me Restraint. *Sighs* Revelation and Restraint are books that will make it into my top choices for 2014. Amazing!"

— Melissa, Sassy Savvy Fabulous

"This book [VERNAL] deserves ALL THE STARS! I highly recommend checking this book out as soon as you can! With gorgeous writing and characters that you will fall in love with immediately, this book has it all!"

— Cassie, Novels and Necklaces

"Goodness me, Vernal was so much more than good. It was I can't sit it down and give me more amazing. The world building was fantastic. That. Ending. I turned the page and couldn't believe that the book was over! I must read the next one and continue this story."

— Moriah, A Leisure Moment

"I am not sure how Randi Cooley Wilson does it, but she has topped the charts again. Vernal moves with the speed of light. You will never want to put the book down. The characters are loveable, and you will be on the edge of your seat and wanting to see what happens next."

— Mindjacked

"I LOVED the characters [in Vernal] and how they interact. There's snark, humor, secrets, HOT romance. This author is batting a thousand when it comes to #‎MustReads in my opinion!"

— The Book Beacon

"Exceptionally well written, Vernal is guaranteed to keep you turning the pages. It should come with a warning that once you start, you won't be able to put it down until you've finished."

— Merissa, Archaeolibrarian

"[The Revelation Series] was one well thought out plotted story from the first book to this the last one, and it has been one wild ride and I have loved every second of it, and I hope you will too."

— Mindjacked

"Randi has delivered a series with unexpected twists, gasp-out-loud cliffhangers, tearful and heart-wrenching scenes, loveable characters and a story so well put together with an outstanding ending. This series has been amazing from beginning to end."

— Latte Nights Reviews

"I devoured this series in less than a week. I mean, seriously, why can't there be like 20 books in this series? The action in Restoration was jam packed. I can't express to you how much you need to go read this book. Go buy the whole series, right now!!!"

— YA Reads

"This series [The Revelation Series] is NOT TO BE missed. Consistent flawless storytelling throughout the series. The author crafts a complete, satisfying conclusion to this epic saga."

— The Book Beacon

"Exceedingly well-written, with enough character interaction to keep anyone happy; twists, turns and intrigue; betrayal; heartbreak; trust me when I say it's all here. Absolutely fantastic and I really can't recommend it highly enough! Sheer perfection!!!"

— Archaeolibrarian

"There is so much that goes on in this book [Revolution] - betrayal, treachery, love, sacrifice - it's all here. GET THIS BOOK! GET THIS SERIES! Lose yourself into the world of some seriously hot gargoyles. I promise you, you won't regret it."

— Archaeolibrarian

"Randi Cooley Wilson did it again! She left me on the brink, waiting for the next installment. Seriously, I need Restoration. NOW! The book [Revolution] was fast paced, full of twists and turns, and I couldn't put it down once I started. It was worth the wait!"

— Joanne, Have Book Will Read

"Revolution is fast paced, incredibly original and full of fantastic people. The storytelling and dialogue play out like a Hollywood blockbuster with fight scenes, special effects and stellar romance. This is a series NOT TO BE missed!!"

— The Book Beacon

"Once again, Randi Cooley Wilson paints a colorful world populated by equally colorful characters."

— Adventures in Writing

"The books in the Revelation series always leave me desperate for the next book; I'm really excited about where the storyline is going."

— Clever Girls Read

"Just when I was starting to think things were as they should be, and everything was right in the Collins/St Michael world, Randi goes and throws another spanner in the works, leaving me open mouthed … I hope Randi Cooley Wilson is busy writing right now, because I need book 4 STAT!"

— Have Book Will Read

"Honestly, I didn't even think that it was possible to fall anymore in love with this series or the amazing characters but obviously Ms. Wilson just had to prove me wrong. Redemption was such a fantastic read, and I loved every single second of it!"

— Read Write All The Time

"[Redemption is] a fantastic, hot, witty, sexy Paranormal Romance that will draw you in and not let you go. I can't recommend this highly enough!"

— Archaeolibrarian

"Randi had me glued and dying to find out more and I have got to say I never saw any of it coming. This book [Redemption] is really great and I don't know how I can describe how much I enjoyed it."

— Come To Babes Books

"This book [Redemption] was spectacular. I mean that in every aspect of the world. Anyone that enjoys supernatural/romance books will fall in love with this book/series as I have."

— Just One More Chapter

"I was engrossed from page one. Literally could not put the book down. Restraint was an awesome follow up to Revelation and I can't wait to read book 3!"

— Amanda, Escaping Reality Within Pages

"There's passion, anguish, jaw dropping heart-stopping moments, and heart-breaking scenes too...it was one of those books where 'just one more chapter' leads to another 3."

— Joanne, Have Book Will Read

"Randi Cooley Wilson turns up the dial on everything in Restraint, the sexual chemistry, the danger, the romance, the risk they take if they pursue their attraction. And the end? Another gasp! What?! Where is book three? Must read now!"

— Clever Girls Read

"Restraint will hold you hostage through all of the twists and turns until the very last page. It's captivating and the characters bring the story alive with their sweetness, love, and fierce protectiveness. Loved it!"

— Jennifer Hines, Hines and Bigham's Literary Tryst

"This book was amazing. The world of imagery that is painted into the words on the pages in this book really draw you in. It is that well written and intriguing of a story."

— Zapkode Marie, Just One More Chapter

"Revelation is a great book for all fans of paranormal romance. I liked the writing, characters, dialogue, plot, action, romance… the things that make a good story a great book."

— Kris, The Book Beacon

"Revelation on its own was a very well written book that held my attention the entire time. I had high expectations for Revelation and Restraint and I was very pleased with how the books held their own."

— Alexandra, SleepsOnTables

"Revelation is an outstanding story, for both Young Adult and Adult readers. Everybody will be able to enjoy this journey and will be happy to dive in head first. It is a story that will not disappoint."

— Genesis Reyes, GenGen's Book Blog

"Revelation was rich and full of everything that it needed to stand out amongst so many other books I've read. If you're looking for a read that has a basis of mythology, with interesting twists and characters you'll really like it."

— Books and Ashes Book Blog
Subscribe to
the Newsletter