August 10, 2015
The Royal Protector Academy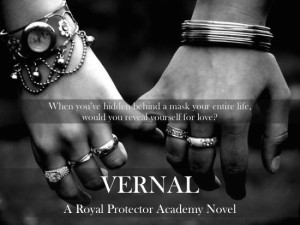 NEW TRILOGY ANNOUNCEMENT:
Many of you have expressed how sad you are at the thought of The Revelation Series ending with Restoration. I'm happy to announce that while finishing edits for Restoration, I have agreed to write a Revelation Series 'spin off', which will be called The Royal Protector Academy Trilogy. Squee.
Though Restoration will be the last chapter on Eve's journey, and final book of The Revelation Series, I'm excited to introduce you to the 'next generation' of the St. Michael and Gallagher clans in the new trilogy.
RPA will tell the story of Serena (Callan and Abby's daughter) and Tristan (Gage's son). I have a feeling some of your old Rev favorites will also be making guest appearances as well! You can look forward to an RPA excerpt at the end of Restoration.
The Royal Protector Academy Trilogy Release Schedule:
Vernal (Book #1): Spring 2016
Aequus (Book #2): Fall 2016
Nox (Book #3): Spring 2017
There are no firm release dates as of yet. I'm working hard on finishing up The Revelation Series in order to get it into your hands within the next few months, before I switch focus to the RPA Trilogy.
I hope this eases some of the anxiety about the series ending. I know you've fallen in love with these characters, and truly hope you'll embrace Serena's and Tristan's story too!